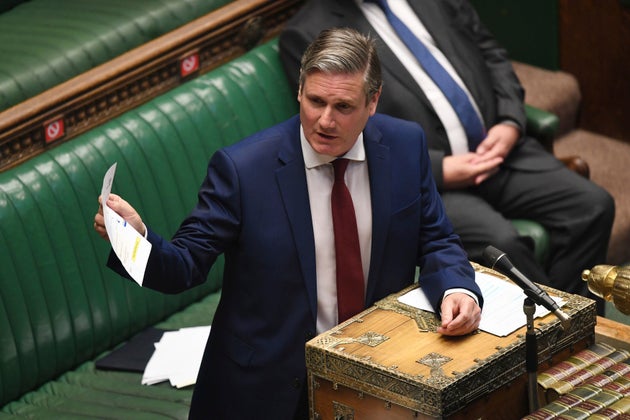 Coronavirus has changed everything. Make sense of it all with the Waugh Zone, our evening politics briefing. Sign up now.
Keir Starmer has declared the Labour Party is "under new management", as he distanced himself further from former leader Jeremy Corbyn.
Speaking during PMQs on Wednesday, Starmer asked Boris Johnson "why on earth" he "sat on" a report by the Intelligence and Security Committee (ISC) into Russian meddling in Britain's democracy.
The report, published yesterday – months after it was completed – concluded the government "took its eye off the ball" and failed to respond to the threat from Moscow.
Johnson accused Starmer of having "sat on his hands and said nothing while the Labour Party parroted the line of the Kremlin" when Corbyn was leader at the time of the Salisbury poisoning.
But Starmer said he had been "absolutely clear" in condemning Russian aggression.
"I'd ask the prime minister to check the record and withdraw that," he said. "Under my leadership national security will always be the top priority for Labour."
In an appearance on BBC Question Time on March 15, 2018, Starmer said he condemned the poisoning "without reservation" and it was the "right conclusion" that "responsibility lies with Russia".
During PMQs today, Starmer called on Johnson to tackle "Kremlin-backed disinformation" and suggested the government should "look again" at the licensing for broadcaster RT, formerly Russia Today, to operate in the UK.
Johnson told Starmer he should have called out Corbyn "when he took money for appearing on Russia Today".
Corbyn, as well as members of his shadow cabinet, regularly appeared on the TV channel.
Starmer hit back: "In case the prime minister hasn't noticed, the Labour Party is under new management.
"No frontbencher of this party has appeared on Russia Today since I have been leading this party."
The explicit distancing from Corbyn came hours after Labour agreed to pay "substantial damages" to whistleblowers who contributed to a TV expose of its handling of anti-Semitism under its previous leadership.
The text above is a summary, you can read full article
here
.