Coronavirus has changed everything. Make sense of it all with the Waugh Zone, our evening politics briefing. Sign up now.
A former minister led calls for the government to rethink computer modelling that disproportionately downgraded the A-level results of poorer students.
Tim Loughton, a former children's minister, said in a post on his website on Friday he had urged education secretary Gavin Williamson to "look again" at the algorithm used by the regulator Ofqual in the wake of the Covid-19 lockdown.
The results sparked a furious backlash from youngsters, teachers and parents this week, after almost 40% of results were downgraded, with private school students benefiting in comparison to those at state schools.
Though the number of passes and top grades increased overall, some students' predicted marks were slashed by up to two grades.
It has left thousands scrambling for a university place via clearing and many others blocked from taking up long-hoped-for places at top institutions.
Loughton admitted "hugely disappointed students" were now in "extraordinarily distressing" circumstances, despite their hard work.
He went on to say: "I have made the point to ministers that they should look at the algorithm again for those who have missed out on their place in further education, and also that assessed exams/mocks be the primary basis for appeal."
Williamson made an eleventh hour concession on Wednesday to allow students to appeal and base their result on their mock exam grade if the final result was worse.
It came after a major U-turn by the Scottish Government saw its downgraded results for Highers exams revoked.
Thousands of young people also took part in a protest outside Downing Street on Friday, calling for Williamson to resign.
Rob Halfon, chairman of the Commons' education select committee, meanwhile, called on Ofqual to urgently meet with schools.
"I am worried about it because some figures suggest that disadvantaged students have been penalised again," he told BBC Radio 4's The World at One.
"I am also worried about further education colleges because they have been improving in recent years and yet they seem also to have suffered under this grading system.
"If the model has penalised disadvantaged groups this is very serious and if it has disadvantaged colleges that has to be looked at. Ofqual will have to adjust the grades."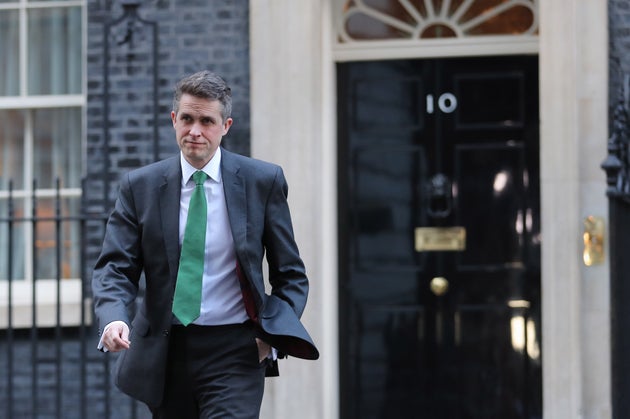 He later told HuffPost UK the government should "broaden the appeals system" and ensure that all charges for any appeal were scrapped.
He said: "The government needs to make it absolutely crystal clear, to universities particularly, that they have to be flexible, without a shadow of a doubt, given what has gone on."
Ofqual has insisted the algorithm was fair.
Shadow education secretary Kate Green, meanwhile, warned there could be a "deluge" of appeals and it may prove impossible to get them all processed in time for September start dates.
"I am concerned that if we have a deluge of appeals, which I think is quite likely given the fiasco we have seen over the last day-and-a-half, there just won't be time for students to have those appeals processed and completed, and universities will fill up those places," she told The World at One.
She added: "As a one-off measure, we have to do something for these young people otherwise we are writing them off for the whole of their life chances.
"I think it is right that this year we take exceptional measures, give those young people every possible opportunity to progress with their lives and make use of teacher assessments where we can't be confident that algorithm and the government's model has delivered fairness to very, very large numbers of students."
The text above is a summary, you can read full article
here
.