Get the latest on coronavirus. Sign up to the Daily Brief for news, explainers, how-tos, opinion and more.
An exam board is "urgently" investigating after it scrambled the grades of entire law classes, failing students who were tipped for the best marks and giving flying colours to the lowest performers.
Pupils in at least two colleges received completely different results from the ones they had been expecting, while many others are still waiting to receive their marks – a day and a half after they were due.
The cancellation of exams due to the coronavirus pandemic has meant BTEC Nationals – vocational qualifications that can be taken in place of A-levels – are basing this year's results on completed assessments and teachers' predicted grades. Teachers were required to submit their students' grades in a list, ranked in order of best to worst.
But HuffPost UK has learned the exam board, Pearson, somehow turned these lists upside down by mistake.
Pearson, the body that runs BTECs, confirmed some students had received "incorrect" results and said it was working to resolve the issue "urgently".
One teacher told HuffPost UK the appeals process could take "several weeks" to be resolved, leaving her pupils "confused" and "upset".
Elizabeth, who teaches applied law, knew something was wrong the moment she received the results: her class of 48 students had received an average Merit grade for their BTEC results, while her previous classes had an 83% Distinction* to Distinction grade.
"I knew there was an immediate issue, so I went into the list and I clicked on the student ranked number one and I saw she had been given a fail, then I went to number two and I realised they had been given a near pass.
Our worst students have got the best grades, and our best students have the worst grades.
"Then I went all the way down to the bottom to the student that I had ranked last, and that student had been given a Distinction* and I saw quite a few who had been ranked at the bottom had been given a Distinction – that's when I realised they had flipped the entire list."
Elizabeth worried at first it was her who had made the mistake. Her next thought was how her students would react. "I know a lot of them were very anxious because they couldn't complete the exam, they were worried that we were going to give them a bad grade. Then what next went through my head was, 'Oh my God, they're going to blame me.'"
She turned to a Facebook group of other teachers to ask if any of them had experienced the same problem. "They all came back to me saying they had similar issues where BTEC had flipped the ranking that we had provided them with.
"So our worst students have got the best grades, and our best students have the worst grades."
When she informed Pearson of the mix-up, she was told to appeal using the standard appeals process, which she says is "pretty complicated". "What frustrates me the most is that now we have to fix a problem that the exam board made.
"We now have to go for a really long process of an appeal that was not our fault and wait, on average, four weeks to get the response for something that should have been done correctly in the first place."
Since Thursday morning, she has received emails from her "confused", "upset" and "discouraged" students "asking what they did wrong". "It makes you feel bad when you know their real grades should actually be a lot better."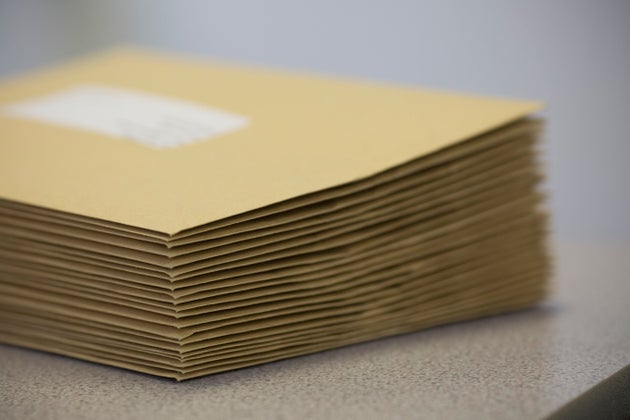 As a teacher, she felt she and her pupils had been "100% let down" by the exam board. "It's infuriating because you've seen the students work so hard for the entire year and then when it's supposed to pay off and when they're supposed to get the reward, you're meant to congratulate them on what they've done – but you can't because it's all confusion and it's all gone wrong.
"My biggest concern is if a teacher is not familiar with the BTEC course, they might not be aware there's been a mistake and it could affect those students.
"It could have a massive effect on where they then go on to with regard to the next stage of their lives, whether it be university or apprenticeship, et cetera."
Around 250,000 students completed BTEC Nationals last year, compared to about 300,000 who sat A-levels in 2018. Around 20% of university students in England are accepted solely on BTEC qualifications.
HuffPost UK has spoken to another teacher at a separate college who said the grades her students received "bore absolutely no resemblance to our previous success in Applied Law, nor to our ranking that we sent to BTEC". They were unable to comment further.
A spokesperson at Pearson said: "As a result of additional quality assurance checks, we have identified some students who have received incorrect BTEC Level 3 National results. We are working closely with the students and centres involved to resolve this issue urgently and sincerely apologise for any inconvenience this has caused."
It has also been revealed that BTEC students who were due to receive their results on Thursday morning are still awaiting their results in what some have described as a "shambles" and an "absolute nightmare".
I feel so powerless. Basically we've been fucked over.
Pearson initially blamed the colleges for the delay, telling the Times Educational Supplement "a few centres didn't meet our deadline for submitting grades". But HuffPost UK has spoken to several colleges that categorically deny they missed any deadline.
A representative at the City of Liverpool College confirmed their pupils had been impacted by the issue, and that the college had met all cut-offs for submission.
Many pupils who have still not yet received their BTEC results are waiting with pending conditional university offers.
Lucy Jackson, 18, said the situation had left her "very stressed and anxious and very frustrated" after a "sleepless night". "The delay and possible downgrading on results mean I could miss out on a clearing spot. This could mean that I have to defer going to university for a year, which is not ideal."
Another parent told HuffPost UK their family was "really stressed out" by the experience. "I am angry for this generation of students," one said. "They had to cope with teaching stopping suddenly and this is their future at stake.
"As parents we have to support our children and I feel so powerless. Basically we've been fucked over."
A spokesperson for Pearson said: "We are aware that some BTEC students experienced a delay in receiving their results and we understand the frustration this must have caused. We are working closely with the students and centres involved to look into this urgently and provide their results as soon as we can."
The text above is a summary, you can read full article
here
.