Keir Starmer has called for a "plan B" for the UK's economy after Boris Johnson imposed fresh coronavirus restrictions which are predicted to threaten jobs.
The Labour leader used a televised address to the nation on Wednesday to say "it makes no sense to bring in new restrictions at the same time as phasing out support for jobs and businesses".
"We need a 'plan B' for the economy," he stressed.
It came as chancellor Rishi Sunak scrapped the autumn Budget and prepared to make an emergency economic statement on Thursday.
Sunak has faced widespread calls to replace the furlough scheme that runs out in October given the impact the new restrictions, including advice to work from home and 10pm closing times for hospitality, are likely to have on businesses.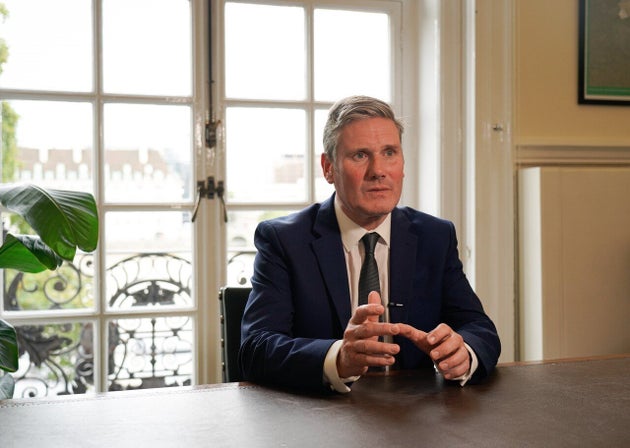 The Treasury said work on a scheme to replace furlough had been taking place in parallel with Budget preparations.
Its focus will be on saving jobs to avoid the expected three million unemployed.
The Treasury said: "We will always be honest with people about the difficult trade-offs that are involved here.
"Not between health and the economy, but between keeping people in jobs and helping them find new ones. And between help in the here and now and rebuilding in the future. That's what people deserve."
The chancellor initially announced his move via Twitter, with a graphic titled "Winter Economy Plan".
No further details were provided and it came as the government confirmed more than 6,000 new coronavirus cases by 9am on Wednesday – the highest daily number since May 1.
A Treasury source said: "No-one wanted to be in this situation but we need to respond to it.
"The chancellor has shown he has been creative in the past and we hope that people will trust us to continue in that vein.
"Giving people reassurance and businesses the help they need to get through this is uppermost in his mind."
The move followed comments by prime minister Boris Johnson about a "creative and imaginative" action plan to protect jobs, with unions and business leaders pointing to schemes used in other European countries.
Bank of England governor Andrew Bailey said on Tuesday it was time to "stop and rethink" the furlough scheme in favour of a targeted approach.
The Trades Union Congress (TUC), which outlined its furlough replacement proposal last month, said the government must "fast-track a new plan" to protect jobs.
The mooted plans would reportedly see the government and firms share the cost of topping up wages for employees only able to work part-time due to the pandemic.
One option reportedly being considered to replace the furlough scheme is Germany's Kurzarbeit, or shorter work-time policy, under which firms can cut working hours in economic downturns with the state replacing part of their lost income.
Another proposal put forward by the CBI business group would see subsidies for firms that can offer staff at last 50% of their normal hours, with the cost for non-working hours shared equally by the company, the Treasury and the employee.
The text above is a summary, you can read full article
here
.