Software outsourcing in Latin America is growing at an impressive rate: it's the region with the second fastest-growing software developer population in the world, behind the Asian Pacific.
Why have so many companies shifted to spending their outsourcing dollars nearshore, rather than traditional outsourcing hubs like China or India? Latin America offers some key advantages over these regions, making them a more attractive option for North American companies.
Latin America's advantages:
• Close physical proximity to North America – shares time zones with the U.S. and Canada.
• Modern telecommunications infrastructure
• Cultural parity with the U.S.
• Tax incentives in many countries
• High rates of English fluency
• Favorable business environment
Let's examine some of the primary contributing factors in Latin America's growing popularity as a destination for outsourcing software development, starting with access to more and better talent.
Access to talent:
Software Engineers in New York (state): 218,041

Software Engineers in USA: 1.36M

Software Engineers in the world: 23.9M
Source: Statista
A large part of the demand for nearshore software development talent comes from technology hubs in the U.S., like San Francisco and Boston, where more and more companies are competing for a dwindling pool of qualified candidates.
Companies have started looking to source talent from less competitive job markets. By tapping into these markets, smaller startups can compete with large local competitors in terms of talent acquisition. For example, your dental plan or benefits package might not be able to compete with those of Google or Facebook, but in cities with a lower cost of living, the level of talent you're able to attract will increase dramatically.
Lower cost of talent: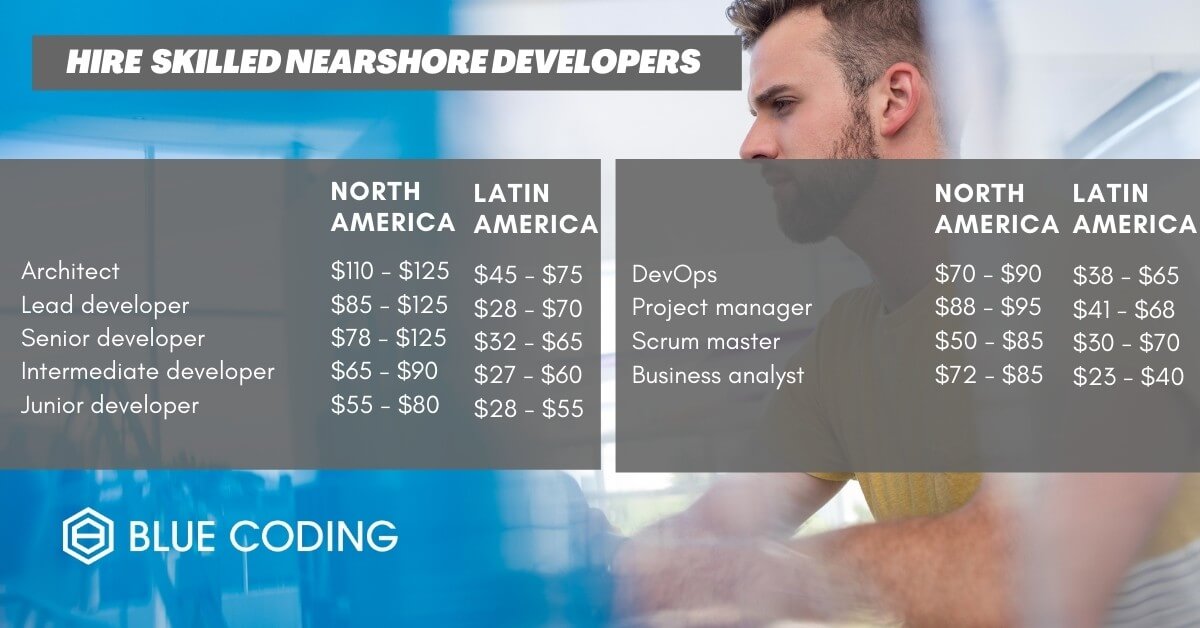 Rates in Latin America are higher, on average, than those of India or China. However, other factors – like geographic proximity, cultural parity, and time zone overlap – add to the overall perceived value of software developers in Latin America. This leads us to another clear advantage over alternatives like outsourcing to India or China: it's much easier to implement and use methodologies like Scrum and Agile with a nearshore partner because you're collaborating in real-time. While Latin America may not be the cheapest outsourcing option, there are still considerable cost advantages compared to hiring developers in North America, as seen below.
Median yearly salaries for software engineers around the world:
San Francisco: ~$140K

New York City: ~$126K

USA: ~$90K

LATAM*: ~$50K
In Good Company
With Latin America's pool of talented software developers continuing to expand, and with a host of excellent nearshore firms in the market, the list of major companies utilizing nearshore outsourcing is growing all the time. Companies such as Intel, Alfa Romero, American Express, Microsoft, General Motors, Netflix, and Amazon are already outsourcing to Latin America, finding a unique combination of cost savings and quality talent that makes nearshoring a great option. This trend is expected to keep increasing and could lead to an entirely new way of looking at hiring software developers internationally.
---