If you smoke dry herb you definitely need a good grinder. There are some cheap grinders out there you can get for only a couple dollars but we advise against it. If you are going to be spending your hard earned money on herbs you can probably invest just a little bit in getting a top of the line grinder to get the best grinding experience.
A good grinder will save time when grinding weed, grind the weed much finer and better, and will be much easier to work with.
Not only do we recommend investing in a top of the line grinder we also recommend to purchase a four piece grinder. Here is why?
Four Piece Grinder – What is it?
The most common grinder is not actually a 4 piece grinder but a two piece grinder. This is probably because two piece grinders are very cheap and are easy to find. Even your local gas station probably sells these grinders. A two piece grinder is just what it sounds like – a grinder that is based in two units. There is the top part and a bottom part and the herb goes in the middle. A couple quick twists and the herb is ready to be dumped out, rolled up, and smoked.
But using a two piece grinder can cause some issues:
The weed can get stuck between the teeth of the two piece grinder
The weed is not as fine as a four piece grinder making it harder to roll up and smoke
There is no separate compartment to smoke the kief
Fortunately having a four piece grinder can fix that! A four piece grinder is similar to a two piece grinder but has two extra pieces, hence the name four piece grinder.
If a piece of herb falls through the 2nd layer and onto the 3rd layer then it is safe to assume the piece is fine enough and is ready to smoke. This is not possible in a two piece grinder. When one empties out a two piece grinder all the contents fall, including the parts that are not completely grinded up. But in a four piece grinder, only the bottom two layers are unlocked.
The bottom layer of the four piece grinder is also very important. Even smaller bits of herb make it to the bottom of the four piece grinder. If one likes to smoke the kief this is a very cool added bonus that will make a big difference in ones smoking sessions.
Lastly, a four piece of grinder can store more weed in its chambers. Going to a friends house or out to an event? Your four piece grinder can carry more herb than a two piece grinder.
Best of Weed Grinders in 2020
Finding the ultimate weed grinder, to a large extent, depends on the particular features you're looking for. Some people prefer no fuss models while others opt for devices that deliver the most purified powder possible. Your choice depends on the goals that matter to you.
Here's some detailed info on a few of the best weed grinders for sale that'll help you choose one. While every product has its flaws, their reviews remained overwhelmingly positive.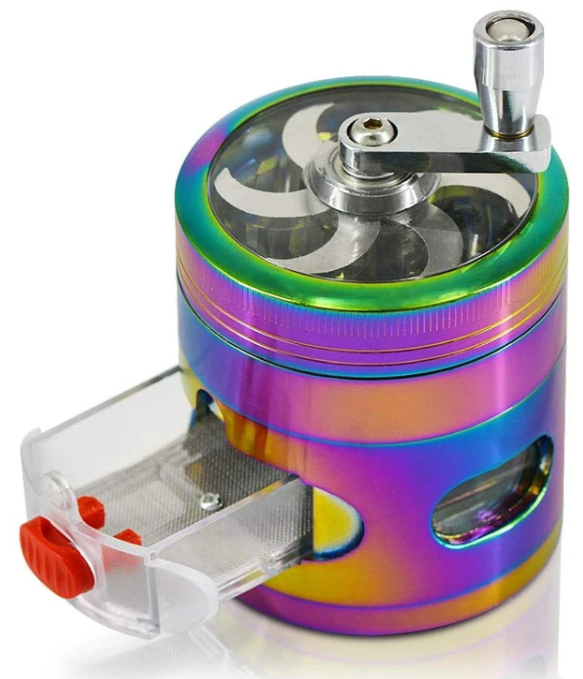 The herb grinder 4 pieces & 3 chambers allows for grinding, storage, and filtration of pollen. Hand crank herb grinder increases the fun of grinding, transparent top allows you to observe the whole grinding process,Stretchable drawers allow you to take out the grinded things at any time.
Ideal for grinding herbs, spices, tea etc. The herb grinder with powerful magnet lid helps considerably to reduce spilling and keep leftover herbs fresh and odor free.Mesh Screen of the grinder with handle filters very fine pollen, the little scraper included helps for powder collecting
This spice grinder made of solid and durable zinc alloy metal. Correct size and thickness of grinder and teeth grants an easy and quick grinding experience.Thin Poly O-Ring for smooth grinding and less friction.
2.48 X 3.11 inch, exquisite and compact, easy to carry. This grinders for herbs 4 piece design disassembles easily, providing for easy use and cleaning grinder herb.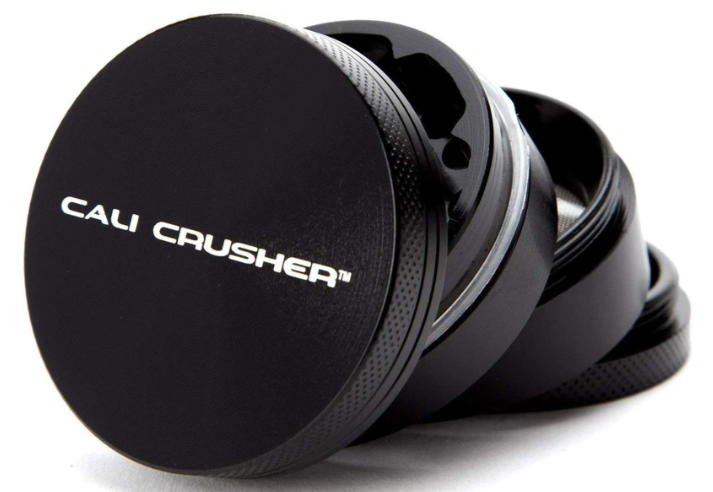 This Cali Crusher Herb Grinder is a four piece grinder that comes with a screen. This Cali grinder is heavy duty as it is made from aircraft grade billet aluminum.
The screen is made with stainless steel so you can use it without worries. There is an O ring along with Neodymium and anodized magnetic closure.
This Cali crusher 4 piece grinder comes with a custom pollen scraper. The grinding product gets collected in the second chamber and comes out as a fine grind rather than dust.
The pollen scraper can be used to clean out the bottom chamber of the grinder where the pollen is collected. You don't need to clean out the bottom chamber after every single use though.
This is the reason why you can take this grinder with you everywhere. Apart from being conveniently small, it is also easy to take with you on vacations without any worries.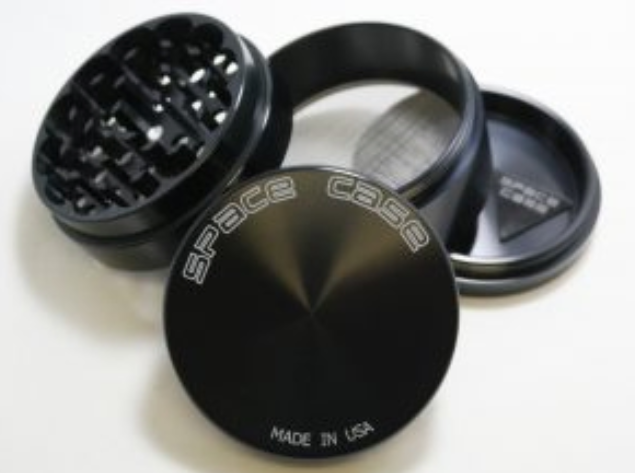 Space Case Grinder Titanium
Space Case is one of those heavyweight brands in the weed grinder world.
Space Case grinders will last you for 10+ years, without degrading in performance or any materials/coatings coming off, like you get with so many cheaper grinders.
The build-quality of Space Case grinders is unparalleled.
Performance-wise, this weed grinder tears through the hardest nugs with minimal effort every time.
You don't need to be grinding for a long time to get the same grind-consistency with all of your herb. Second, it's very easy to get the exact same grind consistency every time you grind.
It's also unquestionably the best grinder for catching kief. The kief build-up with this grinder after only 10-15 grinds is already so much, you will feel obliged to start using your kief.
Don't you hate it when you pull out your grinder, see all the resin and dirt between the grinding teeth, and quickly realize that you can't grind yet, but need to clean first.
Tips For How To Use A Grinder
After a few uses, you'll get the hang of your grinder and figure out what produces the best finished product. Here are just a few tips to get you started:
Opt for an aluminum or zinc grinder (if you can afford it)
Get one with plenty of teeth and holes
Don't overfill the grinding chamber (the finished product won't be as fine)
Turn the grinder upside down for a few turns
Put a clean coin in the collection chamber to help knock the kief through the screen
There really are very few downsides to using a grinder, so we encourage you to give one a try today. If you're still unsure whether a grinder is for you, talk the budtenders at your local dispensary.
They probably have a few floor-model grinders laying around that you can try before you buy. If you have them walk you through the process first, you might pick up more tips to make your marijuana-grinding experience even better.
Conclusion
You learned what weed grinders are best overall.
And what weed grinders are best per specific purpose.
Although you do get what you pay for with weed grinders, maybe you don't need one of them.
The most best weed grinders are 4-piece grinders. You only need these if you plan on catching and building up a lot of kief.
But any weed grinder in this list will serve you well!