Amid a constant stream of news, it can be near-impossible to keep track of where we are with coronavirus.
But infection rates, hospitalisations, contact tracing and the death toll are all vital to our understanding of the virus and how we're tackling it – even if they can be difficult to find.
To help you make sense of it all, here are the most recent updates and statistics we have on Covid-19:
Highest number of Covid outbreaks now in care homes
Care homes are now the setting for the highest number of coronavirus outbreaks, data published by Public Health England suggest.
The most recent numbers show 1,392 "acute respiratory infection incidents" (ARI) in the past week – that's what you and I would call "outbreaks", or instances where two or more confirmed cases have been linked to a particular place or event. This is up from 1,125 in the previous week.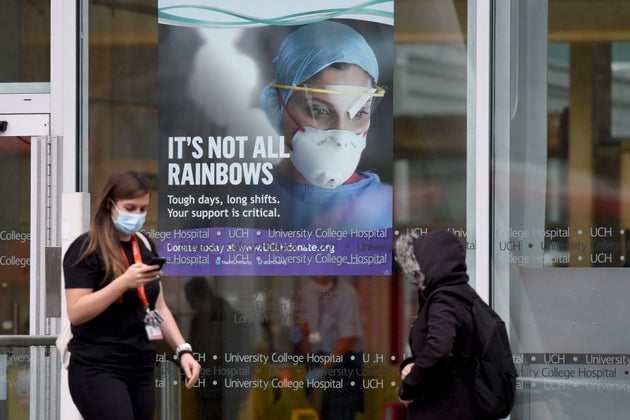 Of those, a total of 397 incidents were identified in care homes, while the second highest number of outbreaks – 334 – was recorded in workplace settings.
There were 311 outbreaks identified in educational settings such as schools and universities.
Death toll tops 300 twice
Twice this week the UK's Covid-19 death toll topped 300, with 310 deaths recorded on October 28 and 367 recorded on October 27 – the highest figure since May 28.
The most recent figures, published on Thursday, show that 280 deaths had been registered in 24 hours, with 214 in England, 21 in Wales, 37 in Scotland and eight in Northern Ireland.
More than 4,000 people have now died of Covid-19 in the second wave of the pandemic, with the nation far surpassing an earlier warning by chief scientific adviser Patrick Vallance that the country could see 200 coronavirus deaths a day by mid-November.
To date, 45,955 people have died in the UK within 28 days of a positive Covid test.
Official figures from the Office for National Statistics also show that 58,925 people in the UK have died with Covid-19 on their death certificate.
Infections and hospitalisations continue to rise
The latest data from NHS England show the number of hospital beds in England occupied by confirmed coronavirus patients has more than doubled in two weeks from 4,105 on October 13 to 8,595 on Tuesday.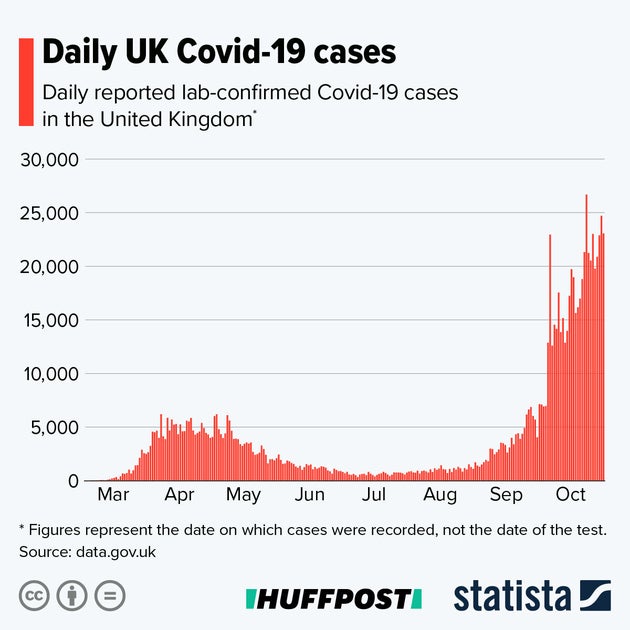 The new figures, published on Thursday, also showed there were 743 Covid-19 patients in mechanical ventilation beds in England on Tuesday, up from 560 on the same day the previous week.
Meanwhile, the NHS Test and Trace system recorded its highest-ever weekly number of positive cases.
The latest data from the test and trace system shows that a total of 126,065 people tested positive for Covid-19 at least once in the week to October 21 – a 23% increase on the previous week and the highest weekly number since the programme began at the end of May.
If that sounds high, you won't be pleased to know that a study by Imperial College London estimated that almost 100,000 people are catching Covid-19 every day, with the test and trace system catching just a quarter of them.
The report also showed the coronavirus R rate in England has jumped to 1.6 and infections are doubling every nine days.
And the latest weekly surveillance report from Public Health England showed Covid-19 case rates in England were rising for all age groups except 10- to 19 year-olds.
The highest rates are currently among 20- to 29-year-olds at 333.2 cases per 100,000 people in the week to October 25, up from 306.6 in the previous seven days. For people aged 70 to 79 the rate was 110.0, up from 88.0, while for people aged 80 and over it rose from 125.6 to 156.7.
Tracers still barely reaching 60% of contacts
The government's much-criticised contact tracing system, headed by Tory peer Dido Harding and run by private firms such as Serco and Deloitte, reached just 60.3% of all close contacts of people who had tested positive for Covid-19.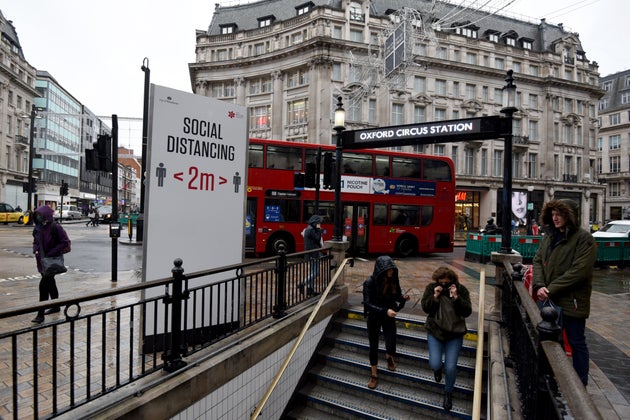 This marks a very slight improvement from the previous week's figures, when just 59.6% of close contacts were reached – a record low for the system.
A total of 284,701 people were identified as coming into close contact with someone who had tested positive between October 15 and October 21 – an increase of 12% when compared with the previous week and a continuation of the sharp upward trend since the end of August.
Unfortunately, scientists have estimated that a minimum 80% of close contacts need to be reached for the system to be effective.
What's more, taking into account the fact Test and Trace only catches a quarter of infections in the first place, and that not all of those will provide their contacts, the figure that 60% of those contacts provided are reached is clearly... not telling the full story.
Mounting pressure for a second England-wide lockdown
With France and Germany entering second national lockdowns, and Wales almost a week through its "firebreaker" restrictions, pressure is mounting on the government to tighten up the rules in England as cases continue to mount.
Experts have widely suggested that a more national approach is needed to address the soaring infection rate as opposed to the three-tier system, and home secretary Priti Patel refused on Thursday to rule out a second lockdown.
Patel said: "I think at this stage, of course, we can rule nothing out because we are a government that is focused on making sure that we stop the spread of this virus and also [that] we protect public health.
"So we have been using, and we are using and we will continue to use, every single means available to us to do exactly that."
But communities secretary Robert Jenrick also said ministers will "try everything in our power" to avoid a "blanket national lockdown".
He said the government's "very firm view" is that a short national "circuit-breaker" lockdown would be the wrong approach, saying "you can't have a stop-start country".
11m people soon to be living under strictest rules
Just weeks after the three-tier system of lockdowns was unveiled, close to a fifth of England's population is now living under the country's toughest Covid-19 rules.
Nottinghamshire entered tier 3 on Friday morning, while West Yorkshire will move up to the highest alert level from Monday as the number of patients in hospital continues to rise nationwide.
It will take the total number of people in the highest level of restrictions to just over 11m – 19.6% of the population.
And with the Tees Valley and the West Midlands also expecting to be moved up to tier 3 soon, millions more people could soon be under the strictest level.
Infographics supplied by Statista.
The text above is a summary, you can read full article
here
.