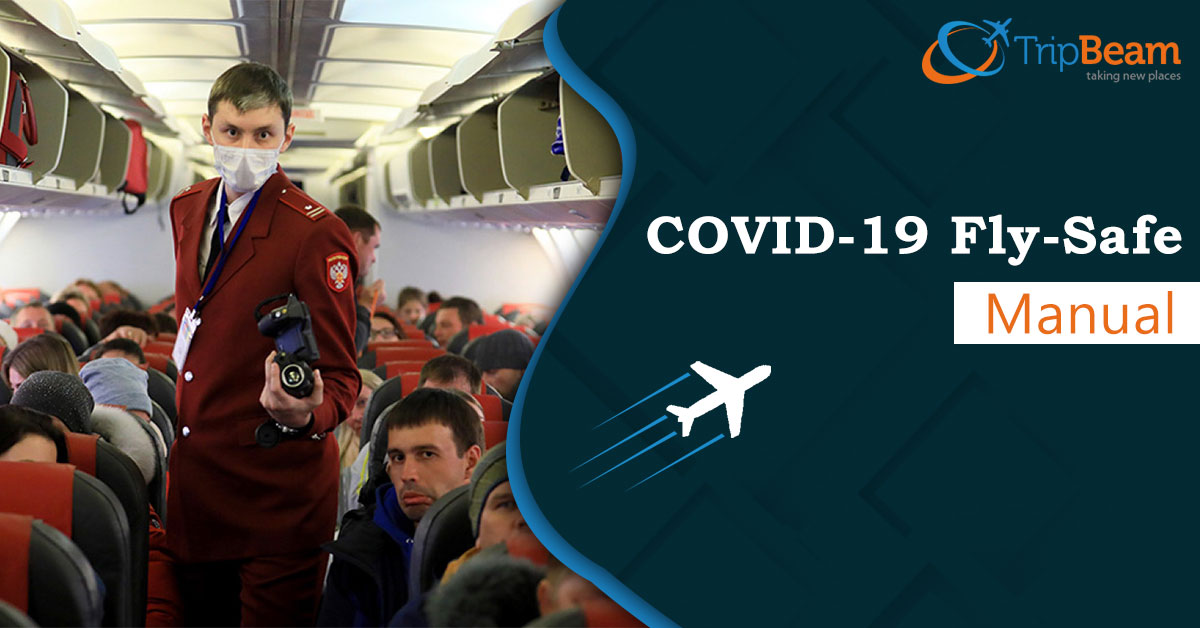 Share
Tweet
Share
Share
With surgical masks and hand sanitizers going viral travelers must take other effective precautions against the Coronavirus or the COVID-19.
If you plan to catch a flight, use this article as a fly-safe manual. It will guide you about what you can do, and what airports, airlines, and other authorities are doing to make your travel healthier.
So, let's start with some measures you should take at the airport.
Precautions at the Airport
Easy precautions and inculcating simple habits make your travel healthy. It is vital to exercise the following at the airport.
1. Install Boarding Pass in your Mobile
Take full advantage of the mobile boarding passes. Discarding the traditional boarding pass has many advantages. It reduces direct contact with a person or machine.
Security personnel inspects paper boarding passes manually. However, you can scan mobile boarding passes without maintaining physical contact with the scanning machine
2. Don't put Phones in the Bin
Avoid placing your belongings such as keys, phones, etc. in the bins while screening. While you can't avoid security checkpoints, you can avoid contact with bins.
Also, carry a bag with yourself. Place all the loose items inside the bag, and keep it handy. Or if you are carrying a hand-baggage, stuff everything inside.
So, make sure you have a bag ready while you get the flight ticket.
3. Check-in Online / Avoid Kiosks
Another great tip is to check-in for your flight online. Web check-in is a convenient way to minimize time spent at the airports.
Also, steer clear of the airport kiosk self-check-in. Web check-in is as simple as online air ticket booking.
4. Wash Hands Pre and Post-Screening
Washing hands is the best precautionary measure. Before and after the screening process, you must wash hands.
Since you may have to touch shoes, etc. always head to the nearest restroom or a wash-basin. And, of course, carry sanitizers.
5. Use Mobile Banking or Virtual Wallets
Using mobile banking and virtual wallets will minimize contact with the staff at restaurants, duty-free, airport lounges, and other concessions.
Avoid cash transactions, and using plastic money. Even while making a travel flight booking.
Nearly all airport outlets across the world accept virtual wallets and mobile banking.
How Airlines are making Travel Safe?
Apart from relaxing travel flight ticket deal change and cancelation policies, airlines across the world are exercising strict safety measures.
1. Thermal Cameras and Scanners
Many airports across the world, such as those in India are using thermal scanners to detect high body temperatures. Thermal cameras also help as they capture the heat generated by a living entity.
Passengers on all flights to India operating through seven major gateway airports will undergo thermal scanning.
2. Changing In-flight Offerings
You will notice changes in the in-flight offerings. Especially in the Asia-Pacific, airlines have taken strict measures to stop the infection from spreading.
Therefore, the airlines will not circulate cloth napkins, blankets, pillows, magazines, and newspapers.
While on a flight, request for disposable headphones.
Also, flight attendants are no longer offering hand towels, or face towels. Moreover, you will observe the staff wearing precautionary gear such as gloves.
3. Air Filtration
Airlines are using hospital-grade advanced-technologies to combat COVID-19. One such sophisticated step is the HEPA air filtration.
HEPA stands for High-Efficiency Particulate Air filter. Each filter removes nearly all of the airborne particles.
4. Food and Beverage
Special attention is given to the F and B. Airlines are sanitizing utensils before washing.
If you ask for a drink refill, for instance, the airline staff will give you a new cup. The airlines are working on the elimination of reuse of items.
5. Check Websites
Also, it is important that you follow your airline via their website. Extract all of the travel updates on coronavirus.
The airlines are making changes in the policies and introducing measures to make your travel safe and healthy.
You may even refer to the USA flight booking websites or local travel portals to learn about travel safety.
How Major US Airlines are making Aircraft Infection-Free?
The cleaning practices and standards of government health agencies are being followed by the airlines.
Mentioned-below are four major US airlines and their methods to withstand the coronavirus.
1. Delta Air Lines
Delta's staff is exercising high cleanliness standards. High-grade disinfectants are being used on all aircraft in the fleet.
Delta's cleaning crews have to follow a strict checklist enlisting 19 points for the cabin upkeep. These include disinfecting customer contact areas and cabin surfaces.
All of the international air carriers have air-circulation systems such as HEPA. Lavatory cleaning supplies are prepackaged. These include a mop, gloves, disinfectant wipes, etc.
2. Southwest Airlines
One of the most popular airlines in the world, Southwest is abiding by the regulations of the Center for Disease Control (CDC).
Although all of the destinations served by the airlines are risk-free, Southwest is complying with the guidelines of multiple governments and health authorities.
The airline conducts regular cleaning and disinfecting the aircraft between flights. All hard surfaces, seats, floors, cabin ceiling, etc. are disinfected thoroughly. Southwest is also using the HEPA filters.
3. American Airlines
American Airlines has come up with a 30-point aircraft deep cleaning program on a daily basis. The airline is discarding all unused inbound supplies.
The airline is offering sanitizing wipes. Moreover, sanitizing stations are in place at important locations across the airport.
Moreover, just like other airlines, American Airlines aircraft have HEPA. It filters air fifteen to thirty times an hour.
Further, the self-serve baskets have also been removed from all international flights.
4. United Airlines
United Airlines is also paying extra attention to aircraft cleaning by using multipurpose high-grade disinfectants.
A thorough wiping of all hard surfaces that comes in contact with passengers and employees is carried out. This includes tray tables, lavatories, galleys, armrests, window shades.
Protective supplies such as alcohol-based sanitizers, disinfectant wipes, and so on are given to airline crews.
What are some General Precautions that make Flying Safer?
There are some general precautions that every passenger can take. Keep the following in mind while making a flight ticket booking.
1. Hand Hygiene
(a) Wash Hands:
Wash your hands using good quality soap for at least 20 seconds. Especially before and after consuming food or sneezing, or coughing. In case you cannot find water and soap nearby, use a sanitizer.
(b)Carry Sanitizer:
Even though airports are installing sanitizing stations, carrying a pocket-sized sanitizer is a great precaution.
(c) Wear Gloves:
You may even consider wearing gloves, like the airline cabin crews and security personnel.
2. Mouth Hygiene
(a) Cover mouth with Tissue:
Always cover your mouth while sneezing or coughing. Disposable paper tissue is ideal. However, do not reuse it.
Also if you do not have access to a tissue or a napkin, cover your mouth with your hands. Always remember to wash them or sanitize them thereafter.
(b) Use Face Masks:
If you are comfortable wearing a facemask, go for it. Prevention is always better than cure.
3. Personal Hygiene
(a) Maintain Distance:
Avoid close contact with any passenger displaying symptoms of coronavirus. Maintain a distance of at least one meter from the person.
(b) Avoid Touching Mouth and Nose:
Do not touch your mouth, nose, and eyes. These are sensitive orifices that you need to protect.
If you practice good personal hygiene and follow simple precautions, you don't have to worry about anything while traveling.
So, buy flight tickets to risk-free areas for your next vacation until coronavirus is contained entirely. Meanwhile, adhere to health safety guidelines, and filter your itinerary well.
source: how to stay safe when flying