The United Kingdom e-commerce sector continues to be one with high growth, innovation and dynamism. Cards transactions are the primary solution while entering the UK. Cards (Credit & Debit) remain the predominant payment method within the e-commerce space. The rate of growth in mobile trade also makes it difficult to overlook this segment: it is expected to outstrip growth in e-commerce overall in the UK. United Kingdom ecommerce payment market is expected to be US$ 203.08 Billion by 2026, according to Renub Research analysis.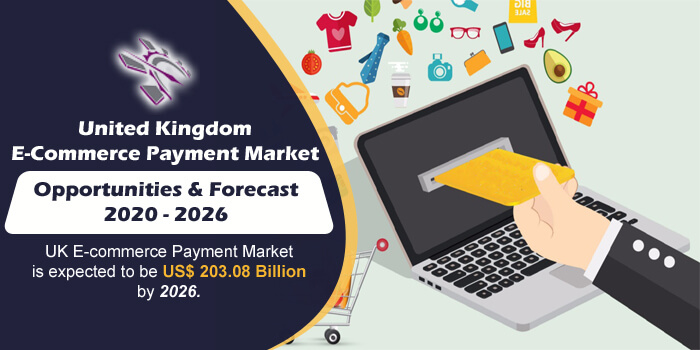 The UK is, without a doubt, a major e-commerce market, and one that continues to set trends for others to emulate, due to advanced technology and competitive payments market. This growth is driven by widespread and growing consumer acceptance of technology and smart devices. The United Kingdom now has more than 95% of household with mobile phones. Companies in the UK are looking to ease the payment method for the users. So that the users have no fear while doing a transaction on the internet and it also minimizes the fraud transactions.

Digital wallets are catching up fast and are increasingly powered by e-commerce transactions. They are expanding at twice the pace of cards, driven in part because customers believe brands like PayPal offer durable protection. PayPal dominates digital wallet payments in the UK, thwarting attempts by rival Apple Pay to become a more significant player.

Impact of COVID-19 on United Kingdom Ecommerce Industry
COVID-19 pandemic had a profound impact on the ecommerce payment market in the United Kingdom. Purchase of food & grocery items via online medium has shown good growth in the year 2020. As due to coronavirus, peoples were reluctant to leave their homes and have relied more on home delivery of items by online ordering.

Renub Research report titled "United Kingdom E-Commerce Payment Market & Forecast, by Category (Clothes & Sports Goods, Travel and Holiday Accommodation, Household Goods, Films and Music, Tickets for Events, Books/ Magazines/ Newspapers, Computer Software, Food/ Groceries, Electronic Equipments, Computer Hardware, Medicines, Others), Payment Method (Bank Transfer, Card, Digital Wallets, Cash, Direct Debit and Others), Companies (Amazon, eBay, Asos, Argos, and Tesco)" studies the United Kingdom ecommerce payment industry.
Request a free Sample copy of the report: https://www.renub.com/request-sample-page.php?gturl=united-kingdom-ecommerce-payment-market-p.php
By Category – The Report Studies the Market of the following 12 Categories:
1. Clothes & Sports Goods
2. Travel and Holiday Accommodation
3. Household Goods
4. Films and Music
5. Tickets for Events
6. Books/ Magazines/ Newspapers
7. Computer Software
8. Food/ Groceries
9. Electronic Equipments
10. Computer Hardware
11. Medicines
12. Others

By Payment Method – This report covers 5 types of Ecommerce Payment Market in Germany
1. Bank Transfer
2. Card
3. Digital Wallets
4. Cash
5. Others

All the Companies covered in the report has been studied from 4 viewpoints
• Overview
• Initiatives & Recent Developments
• SWOT Analysis
• Revenue

Companies Covered in this Report
1. Amazon
2. eBay
3. Asos
4. Argos
5. Tesco
About Company:
Renub Research is a Market Research and Consulting Company. We have more than 10 years of experience especially in international Business-to-Business Researches, Surveys and Consulting. We provide wide range of business research solutions that helps companies in making better business decisions. We partner with clients in all sectors and regions to identify their highest-value opportunities, address their most critical challenges, and transform their businesses. Our wide clientele comprises of major players in Life Sciences, Information Technology, Telecom, Financial Services (Banking, Insurance), Energy, Retail, Manufacturing, Automotive, and Social sector. Our clients rely on our market analysis and data to make informed knowledgeable decisions. We are regarded as one of the best providers of knowledge. Our pertinent analysis helps consultants, bankers and executives to make informed and correct decisions.

Contact Us:
Renub Research
Phone No: +1 678-302-0700 (USA) | +91-120-421-9822 (IND)
Email: [email protected]
Web: https://www.renub.com
Follow on Linkedin: https://www.linkedin.com/company/renub-research